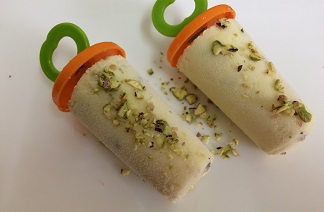 1 litre full cream milk

¼ cup sugar

1 tbsp chopped almonds

1 tbsp chopped pistachio

15 threads of saffron (kesar) soaked in 1 tbsp milk or water

½ tsp cardamom powder
Method
(
how to make perfect malai kulfi at home)
Boil milk till ¼ add saffron, sugar and half of the chopped nuts.

Mix well and let it cool down completely.

Put some chopped nut in the kulfi mould or any cup or trey and pour milk mixture

and

cover with foil or lid and freeze for 6-8 hrs.

After 8 hrs. serve and enjoy.